Teresa Noelle Roberts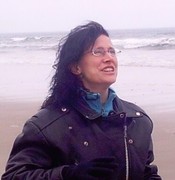 Hello and welcome to the peculiar world of Teresa Noelle Roberts. Over the years I've published a number of erotic paranormal romance, ninety-odd erotica, romance and fantasy stories (some very odd indeed), and two books of poetry.
I'm also one half of the erotica and erotic-romance writer known as Sophie Mouette. (Dayle A. Dermatis is the other half.) As Sophie, we're the authors of Cat Scratch Fever, a romantic erotic mystery, the novella "Hidden Treasure" (which appears in Bedding Down: A Collection of Winter Erotica, edited by the fabulous Rachel Kramer Bussel), and more short fiction than you can shake a stick at.
Though why you'd want to shake a stick at a story instead of reading it is beyond me.
When I'm not writing, I'm a busy lady. I'm an avid gardener, a talented but over-enthusiastic cook (you should see the mess in the kitchen when I'm done), an omnivorous reader, a knitter, a sometime bellydancer, a proudly geeky member of the Society for Creative Anachronism, and, whenever I can manage it, a body boarder.
I grew up in the Finger Lakes region of central New York, the setting for my novel Lions' Pride, and I've lived in Manhattan and Paris, but I now call a little town in southern Massachusetts, closer to Providence than to Boston, home. Here, I live with my husband, a Leo in law enforcement, and two extremely large cats. It's kind of like living with lions, at least in terms of meat I need to cook and fur I need to vacuum off the couch.
Log In to see more information about Teresa Noelle Roberts
Log in or register now!
Series
Chronicles of the Malcolm
Books:
Bad Kitty, October 2015
Chronicles of the Malcolm #2
e-Book
Thrill-Kinky, May 2015
Chronicles of the Malcolm #1
e-Book
Witches Waves, November 2014
e-Book
Out of Control, April 2014
e-Book
Cougar's Courage, November 2013
e-Book