Tonya Kappes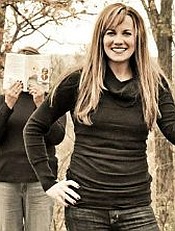 Blogging at Fresh Fiction
Tonya Kappes | Reinvention of Retirement
August 27, 2015
Have you ever tried to take three gallons of crazy and fit it into a two galloon bucket? That is exactly what I, Zula Fae Read More...
Tony Kappes | Why Cozy Mysteries Are Appealing To Readers
August 19, 2013
Years ago, when I started writing, I was bound and determined to write in the women's fiction genre. With pencil and paper (Yes! I Read More...
Pseudonym: Maymee Bell.

For years, USA Today bestselling author Tonya Kappes has been publishing numerous mystery and romance titles with unprecedented success. She is famous not only for her hilarious plot lines and quirky characters, but her tremendous marketing efforts that have earned her thousands of followers and a devoted street team of fans.
Log In to see more information about Tonya Kappes
Log in or register now!
Series
Bluegrass Romance | Ghostly Southern Mystery | Kenni Lowry Mystery
Books:
Kiss My Grits, April 2017
Hardcover
A Ghostly Mortality, March 2017
Ghostly Southern Mystery #6
Mass Market Paperback
A Ghostly Reunion, January 2017
Ghostly Southern Mystery
Paperback
Fixin' To Die, June 2016
Kenni Lowry Mystery #1
Paperback
A Ghostly Murder, October 2015
Ghostly Southern Mystery #4
Paperback
A Ghostly Demise, September 2015
Ghostly Southern Mystery #3
Paperback
A Ghostly Grave, April 2015
Ghostly Southern Mysteries #2
Paperback
A Ghostly Undertaking, March 2015
Ghostly Southern Mystery #1
Paperback
Checkered Crime, April 2014
A Laurel London Mystery
Paperback
A New Tradition, November 2013
A Small Town Romance Short Story Series
e-Book
Grooming Mr. Right, September 2013
Bluegrass Romance #1
Paperback
The Perfect Ten, August 2013
e-Book
A Charming Spell, July 2013
e-Book
A Ghostly Undertaking, June 2013
Beyond The Grave #1
Paperback
A Charming Wish, March 2013
Magical Cures #3
Paperback
A Charming Cure, February 2013
Magical Cures #2
Paperback
Strung Out To Die, January 2013
A Divorced Diva Mystery
e-Book
Grandberry Falls Box Set, November 2012
e-Book
Color Me A Crime, November 2012
An Olivia Davis Paranormal Mystery #2
Paperback
A Charming Potion, October 2012
Magical Cures
e-Book
A Charming Crime, June 2012
Magical Cures #1
Paperback
Splitsville.com, May 2012
An Olivia Davis Paranormal Mystery
e-Book
Carpe Bead 'em, May 2011
Paperback
Something Spooky This Way Comes, October 2010
Paperback