Leigh Perry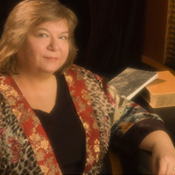 Blogging at Fresh Fiction
Leigh Perry | How to Write a Haunted House; Or How to Haunt a Mystery
October 26, 2015
Early on in the process of writing THE SKELETON HAUNTS A HOUSE, I Read More...
Leigh Perry | A Tradition of Skeletons
September 23, 2014
Though Georgia Thackery, an English professor and single mother, is the actual protagonist of my Family Skeleton mystery series, itís the skeleton himself that Read More...
Pseudonym for Toni L.P. Kelner.

Under the name Toni L.P. Kelner, Leigh Perry has published eleven novels and twenty-somthing short stories, and has co-edited five urban fantasy anthologies with New York Times best seller Charlaine Harris. She adopted a pen name because for a new series, and because paranormal novels were a departure for her. So if you like Toni L.P. Kelner's books, you might like the Family Skeleton series, too. If you don't like Kelner's books, forget she said anything-she's never even heard of that Kelner woman.
Though Leigh was born in Pensacola, FL and raised in Charlotte, NC, she has been living north of Boston, MA for 26 years or so. She shares the house with her husband, two daughters, two guinea pigs, and a ludicrous selection of books. While the population of people and guinea pigs remains constant, the number of books is on an ever-rising curve.
Series
Family Skeleton Mysteries
Books:
Seize The Night, October 2015
Paperback
The Skeleton Haunts a House, October 2015
Family Skeleton #3
Paperback
The Skeleton Takes a Bow, September 2014
Family Skeleton Mystery #2
Paperback
A Skeleton In The Family, September 2013
Family Skeleton Mystery #1
Paperback