Katie Williams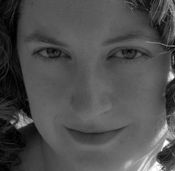 Katie Williams was born and raised in the small town of Okemos, Michigan, though a town is only as small as its library, and Katie "visited" many other places through reading. Like Evie, she was an awkward and sometimes lonely teenager. Unlike Evie, she wouldn't lie to you. Or would she?
After high school, Katie studied English at University of Michigan in Ann Arbor and figured out that she liked writing stories almost as much as she liked reading them. This led her to earn an MFA in creative writing from the generous Michener Center for Writers at University of Texas in Austin.
Katie currently lives in San Francisco, California, where she works as a writing instructor at Academy of Art University. She loves Buffy the Vampire Slayer reruns, cinnamon ice cream, orange cats, and her husband, Ulysses Loken.
Series
Books:
Absent, June 2013
Hardcover