Adam Alter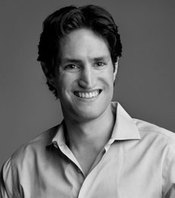 Adam Alter joined New York University Stern School of Business as an Assistant Professor of Marketing with an affiliated appointment in NYU's Psychology Department in July 2009.
Professor Alter's research focuses on judgment and decision-making and social psychology, with a particular interest in the sometimes surprising effects of subtle cues in the environment on human cognition and behavior. His research has been published in Psychological Science, the Journal of Personality and Social Psychology, the Journal of Experimental Psychology: General, Proceedings of the National Academy of Sciences and the Journal of Experimental Social Psychology. Professor Alter's studies have been featured on CNBC, PBS and BBC Radio, and in The New York Times, The Wall Street Journal, The Economist and Newsweek.
Professor Alter received his B.Sc. (Honors Class 1, University Medal) in Psychology from the University of New South Wales and his M.A. and Ph.D. in Psychology from Princeton University, where he held the Charlotte Elizabeth Procter Honorific Dissertation Fellowship and a Fellowship in the Woodrow Wilson Society of Scholars.
Series
Books:
Irresistible, March 2017
Hardcover
Drunk Tank Pink, April 2013
Hardcover