Amy Webb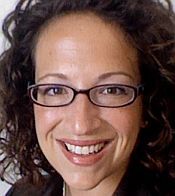 Amy Webb is a professional disruptor (that's a good thing!). She leads a brilliant team that advises a worldwide client base of Fortune 100 and Global 1000 companies, government agencies, media organizations and foundations.
Amy is CEO of Webbmedia Group, a digital strategy agency that studies disruptive technologies and consumer behavior. She and her team help Webbmedia Group's clients prepare for the future using research, ideation and a vast knowledge of emerging tech. Recently, her team worked with the City of Chicago to redesign, in every aspect, a modern library system for the 21st century.
Amy holds many professional affiliations and collaborates with a number of institutions. She is a newly-appointed Research Affiliate at the MIT Media Lab and has been a Lecturer at the Columbia University Sulzberger Program at the Graduate School of Journalism since it began in 2007. She serves on the Board of Directors for the Online News Association and on a number of advisory boards, including the SXSW Accelerator, Knight-Batten Awards, Temple University's Journalism Program, International Center for Journalists and International Press Institute. She is a Delegate on the U.S.-Russia Bilateral Presidential Commission and has served as one of the Knight News Challenge judges. Amy is also a member of the Academy of Television Arts & Sciences (Interactive Media Peer Group) and helps judge the Emmy awards. She co-founded Spark Camp, a 501(c)(3) invite-only working group that brings together the brightest minds in media and technology once each quarter. In addition, Amy is an active startup investor and advisor.
Amy began her career as a reporter/ writer with Newsweek (Tokyo) and the Wall Street Journal (Hong Kong) where she covered emerging technology, media and cultural trends. She has contributed to the New York Times, NPR, Economist and many publications and broadcast shows.
Series
Books:
Data, Love Story, February 2013
Hardcover