Chloe Jacobs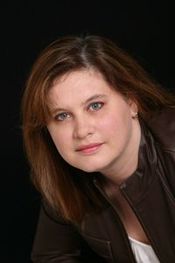 Blogging at Fresh Fiction
Chloe Jacobs | A Tale for Every Season
February 24, 2013
I'm a girl of seasons. My frame of mind often tends to reflect the weather outside my window at whatever time of year it Read More...
Chloe Jacobs is a native of nowhere and everywhere, having jumped around to practically every Province of Canada before finally settling in Ontario where she has now been living for a respectable number of years. Her husband and son are the two best people in the entire world, but they also make her wish she'd at least gotten a female cat. No such luck. And although the day job keeps her busy, she carves out as much time as possible to write. Bringing new characters to life and finding out what makes them tick and how badly she can make them suffer is one of her greatest pleasures, almost better than chocolate and fuzzy pink bunny slippers.
Series
Books:
Greta and the Glass Kingdom, February 2015
e-Book
Greta and the Goblin King, December 2012
Paperback