Victoria James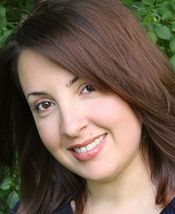 Blogging at Fresh Fiction
Victoria James | Kids, Kids, Everywhere
August 18, 2015
Well, we've made it to August in the James household. Barely. We're now on our second round of swimming lessons, have visited the Read More...
Victoria James | The Top-Ten Hero Must-Haves!
October 24, 2014
Hi! I'm so happy to be back here, blogging at Fresh Fiction! This is release week for my book, Read More...
Victoria James | My Cowboy Top Ten List
March 12, 2014
Ach! I've always loved cowboys! Growing up, I have vivid memories of my father watching endless Clint Eastwood westerns. Clint was my kind of Read More...
Victoria James | The Girl Next Door or The Princess of Salamria?
March 10, 2013
Okay, so there's no Princess of Salamria, but bear with me... As I'm writing this post, I'm sitting at the kitchen table Read More...
Victoria James | As 2012 Comes to a Close...
December 27, 2012
I'm wondering how this year went by so quickly.  Certain years I'm glad to say goodbye too-to the trials that left a Read More...
Victoria James is a romance writer living near Toronto, Canada. Victoria is a mother to two young children, and one very disorderly feline.
Victoria attended Queen's University in Kingston, Ontario and graduated with a degree in English Literature, where she met and then later married, her own hero. After Queen's, Victoria earned a degree in Interior Design. After the birth of her first child she began pursuing her life-long passion of writing.
Her dream of being a published romance author was realized this February, 2012, when Entangled Publishing bought her manuscript A Family For Christmas. Victoria has three upcoming books that will be released by Entangled Publishing's Indulgence line. Victoria is living her dream-staying home with her children and conjuring up happy endings for her characters.
Series
Still Harbor | A Billionaire for Christmas | Red River | Shadow Creek, Montana
Books:
The Doctor's Redemption, June 2017
Shadow Creek, Montana #3
e-Book
The Baby Bombshell, April 2017
Shadow Creek, Montana #2
e-Book
Christmas with the Sheriff, November 2016
Shadow Creek, Montana #1
e-Book
The Rebel's Return, September 2016
Red River
e-Book
Falling for her Enemy, November 2015
Still Harbor #2
Paperback
The Billionaire's Christmas Proposal, November 2015
A Billionaire for Christmas #2
e-Book
Falling for the P.I., August 2015
Still Harbor #1
e-Book
Summer Fire, June 2015
e-Book
Rescued by the Rancher, April 2015
e-Book
The Doctor's Fake Fiancee, October 2014
Red River #3
e-Book
The Rancher's Second Chance, March 2014
e-Book
The Best Man's Baby, August 2013
Red River
e-Book
A Risk Worth Taking, March 2013
Red River #1
e-Book
The Billionaire's Christmas Baby, December 2012
e-Book