Joy Castro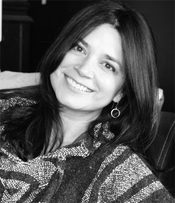 Born in Miami, Joy Castro is the author of The Truth Book: A Memoir (University of Nebraska), the literary thriller Hell or High Water (St. Martin's), and the essay collection Island of Bones (University of Nebraska). Her work has appeared in anthologies and in journals including Seneca Review, Fourth Genre, North American Review, Brevity, Afro-Hispanic Review, and The New York Times Magazine.
She teaches creative writing, literature, and Latino studies at the University of Nebraska-Lincoln, where she also serves as the associate director of the Institute for Ethnic Studies. She was a founding faculty member of the Solstice Low-Residency MFA in Creative Writing Program at Pine Manor College in Boston, where she taught for three years, and has led classes and workshops at the Macondo Writers' Workshop, the Nebraska Summer Writers Conference, and the University of Iowa MFA in Nonfiction Program.
Her novel Nearer Home, a sequel to Hell or High Water, is forthcoming in 2013 (St. Martin's), as is a collection she edited, Family Trouble: Memoirists on the Hazards and Rewards of Revealing Family (University of Nebraska), which includes essays from twenty-five well known memoirists such as Robin Hemley, Sue William Silverman, Judith Ortiz Cofer, and Dinty W. Moore.
She lives with her husband in Lincoln.
Series
Nola Céspedes
Books:
Nearer Home, July 2013
Nola Cespedes #2
Hardcover
Hell Or High Water, July 2012
Nola Cespedes #1
Hardcover