Ania Ahlborn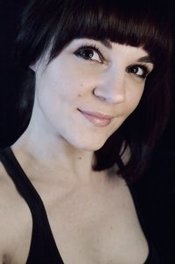 Born in Ciechanow Poland, Ania has always been drawn to the darker, mysterious, and sometimes morbid sides of life. Her earliest childhood memory is of crawling through a hole in the chain link fence that separated her family home from the large wooded cemetery next door. She'd spend hours among the headstones, breaking up bouquets of silk flowers so that everyone had their equal share.
Beyond writing, Ania enjoys gourmet cooking, baking, movies, drawing, and traveling. She currently resides in Albuquerque, New Mexico with her husband and two dogs, Beau the Scottie and Galaxy the Yorkie.
Learn more about Ania on her site, www.AniaAhlborn.com, where you can sign up for a direct-from-the-author newsletter on new releases, promos, and more.
Series
Books:
Apart in the Dark, January 2018
Trade Size
The Devil Crept In, February 2017
Paperback
Brother, October 2015
Paperback
Within These Walls, May 2015
Hardcover
The Neighbors, December 2012
Paperback
Seed, July 2012
Paperback