Diane Vallere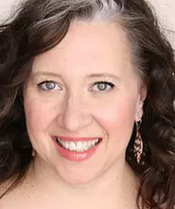 Blogging at Fresh Fiction
Diane Vallere | Costume Love
October 24, 2016
When I was in first grade, my mom made me a black cat costume for Halloween. It involved sewing a hood with cat ears and Read More...
Diane Vallere | Charlie's Story
August 8, 2016
When I wrote the first book in the Material Witness Mystery Series a Read More...
Diane Vallere | Growing Up With Costumes
February 22, 2016
My parents gave me a long brown wig for my seventh birthday. It's unclear how they knew that this would be an awesome present Read More...
Diane Vallere | Proprietary Fabric to Die For
August 4, 2015
Back when I worked in retail, I sat through a training seminar on a particular jewelry line. The designer used eighteen karat gold, and the Read More...
Diane Vallere | Suede to Rest
November 10, 2014
I have fond memories of playing in fabric stores when I was young. My mom is an excellent seamstress, and often took my sister and Read More...
After two decades working for a top luxury retailer, Diane Vallere traded fashion accessories for accessories to murder. CRUSHED VELVET, the second book in the nationally bestselling and Lefty-Nominated Material Witness Cozy Mystery Series, comes out August 4. Diane is the current president of Sisters in Crime Los Angeles and was co-chair of the 2015 California Crime Writers Conference. She also writes the Madison Night and Style & Error Mystery Series. Diane started her own detective agency at age ten and has maintained a passion for shoes, clues, and clothes ever since.
Series
Material Witness Mystery | Costume Shop
Books:
Dressed to Confess, August 2017
Mass Market Paperback
Masking for Trouble, October 2016
Costume Shop #2
Mass Market Paperback
Silk Stalkings, August 2016
Material Witness Mystery #3
Mass Market Paperback
A Disguise to Die For, February 2016
Costume Shop #1
Paperback
Crushed Velvet, August 2015
Material Witness Mystery #2
Paperback
With Vics You Get Eggroll, April 2015
Paperback
Suede To Rest, November 2014
Material Witness Mystery #1
Paperback
Other People's Baggage, August 2014
Hardcover (reprint)
That Touch Of Ink, August 2013
Mad for Mod
Paperback
Buyer, Beware, March 2013
Paperback
Other People's Baggage, December 2012
Paperback
Pillow Stalk, October 2012
Paperback