Valerie Bowman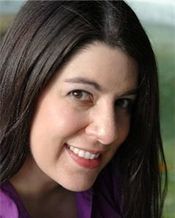 http://www.ValerieBowmanBooks.com
Contests
Valerie Bowman's Secrets of a Runaway Bride Contest

Blogs:
Valerie Bowman - Blog
Valerie Bowman - Twitter
Valerie Bowman - Facebook
Valerie Bowman - Goodreads

News
April 2, 2013
Valerie Bowman | The Evolution of a Regency Series

E-mail me when Valerie Bowman releases a new book.
Blogging at Fresh Fiction
Valerie Bowman | The Evolution of a Regency Series
April 2, 2013
Hi Fresh Fictioners! I'm here to celebrate the release of the second book in my Secret Brides series, Secrets of a Runaway Bride. I Read More...
Valerie Bowman | Faro and the Romance Novel Hero
September 28, 2012
The first thing I came up with when writing my debut Regency romance novel was the title. Read More...
Award–winning author Valerie Bowman writes Regency–set historical romance novels with a focus on sharp dialogue, engaging storylines, and heroines who take matters into their own hands!
Valerie has a B.A. in English Language and Literature with a minor in History from Smith College and has been writing and editing professionally for over 15 years. She is a member of Romance Writers of America (RWA), and a member of The Beau Monde, Regency special interest chapter.
Originally from Rantoul, Illinois, Valerie lives in Fleming Island, Florida with her two rascally dogs. When she's not writing, she keeps busy reading, traveling, or watching Hoarders.
Books:
Secrets of a Runaway Bride, April 2013
Secret Brides #2
Mass Market Paperback
A Secret Proposal, January 2013
Secret Brides novella
e-Book
Secrets Of A Wedding Night, October 2012
Secret Brides #1
Paperback