David Frei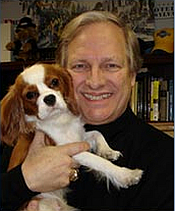 David Frei is well known to millions of television viewers as the longtime co-host (21 years) of the popular Westminster Kennel Club Dog Show.
In connection with that role, he has made many appearances on "The Today Show," "Good Morning America," "The Early Show," "Ellen," "The View," "Martha Stewart," "Charlie Rose" and more. He has been director of communications for the Westminster Kennel Club since 2003. David also has been co-host on NBC of "The National Dog Show" on Thanksgiving Day since its inception, a telecast seen by about 20 million viewers every year.
A longtime breeder-owner-handler and judge in the world of purebred dogs, he has enjoyed much competitive success with his Afghan Hounds and Brittanys. Ch. Stormhill's Who's Zoomin Who was the #1 Afghan in 1989 and retired as the top-winning female in the history of the breed. David has also exhibited his Brittanys in conformation and field trials. A Cavalier King Charles Spaniel puppy named Angel recently joined the family and is a newly certified therapy dog.
With Westminster, David helped to create Angel On A Leash, a charitable activity supporting therapy dog programs at health care facilities around the country. David is an active volunteer as well, visiting each week with his two Brittanys and his Cavalier at Memorial Sloan Kettering Cancer Center and the Ronald McDonald House of New York.
He is a member of the Sports Council of the St. Jude Children's Research Hospital and does volunteer work with Transfiguration Church and School in New York's Chinatown.
In 2009, the Dog Writers Association of America awarded him the American Kennel Club Distinguished Service Award, and in 2010, the World Dog Press selected him for their Media Award.
David is the co-author, with Mike Lingenfelter, of The "Angel By My Side", a critically-acclaimed best seller about a heroic service dog, published in 2002 (www.angelbymyside.com). And in 2004, he appeared in one of the final episodes of the HBO hit series, Sex And The City, playing a dog show judge.
Series
Books:
Angel On A Leash, December 2011
Paperback