Bern Nadette Stanis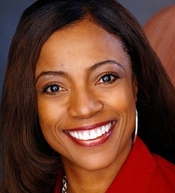 She is best known as Thelma from Good Times! But there's much more to her than that. In the 70s, Bern Nadette Stanis was the personification of Black Beauty. As sophisticated and graceful as she was, she still became TV's first Black sex symbol or "It" girl.
Thelma/Bern Nadette and The Evans Family also proved many stereotypes wrong about the ghetto and the young black girl, like for instance…that all Black girls and Black families in the ghetto had no hopes, dreams, or class. Thelma showed that a "ghetto girl" had hopes and dreams, intelligence, respect, dignity and grace, and it wasn't just acting, Bern Nadette was that naturally. She introduced a new definitive image of the young Black girl and woman.
She is a wonderful, graceful dancer which she displayed several times on Good Times. In everything Bern Nadette did it was marked with delicacy with diminutive beauty, form, or grace.
Her grace and beauty was a welcoming presence on TV in the 1970s and still is today and will be as long as there's a TV. Her dramatic, comedic charm, witty one-liners, daintiness, winsomeness, sexy but innocent image, were versatile qualities that made her a great talent and great favorite who'll never be forgotten.
Series
Books:
Situations 101, June 2006
Paperback