Sara Luck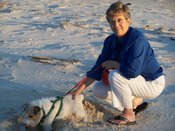 Blogging at Fresh Fiction
Sara Luck | People Are Hungry for History
August 7, 2014
This past weekend, my husband and I, along with a few thousand other people, have enjoyed the reenactment of the Battle of Mobile Bay and Read More...
Sara Luck | When Fictional Characters Meet Historical People
September 9, 2012
I want to thank Fresh Fiction for the review of my latest book, TALLIE Read More...
Sara Luck taught school in Alaska for six years, spending much of that time in Point Hope, two hundred miles north of the Arctic Circle. Married to a retired army officer (also a novelist), Sara and her husband live on the beach in Alabama with a Jack Russell terrier named Charley.
They travel frequently to research their books, most recently to a mountain top in Wyoming, where they encountered mountain lions, wolves, and bears...fortunately from a safe distance. Throughout their marriage, she has been a writing partner, editor, and research assistant for her husband's many books.
Series
Books:
Under The Desert Sky, April 2016
Paperback
A Family For Maddie, January 2015
Paperback
Hearts Afire, May 2014
Paperback
Hearts Unbound, August 2013
Paperback
Marci's Desire, June 2013
Paperback
Rimfire Bride, March 2013
Paperback
Tallie's Hero, September 2012
Paperback
Claiming The Heart, May 2012
Paperback
Susanna's Choice, January 2012
Paperback