Doug Tennapel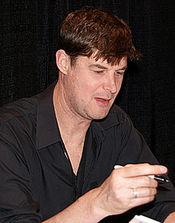 Doug TenNapel was raised in the town of Denair, California.
In 1994, he created Earthworm Jim, a character who would go on to star in video games, toy lines, and cartoon series.
An Eisner award-winning artist, Doug's most recent graphic novels, Iron West and Monster Zoo, were cited by ALA as Great Graphic Novels for Teens.
Doug is also the author and illustrator of such acclaimed graphic novels as Tommysaurus Rex, Ghostopolis, and Bad Island. He lives in Glendale, California, with his wife and four children.
Series
Books:
Nnewts, January 2015
Hardcover
Cardboard, August 2012
Paperback
Bad Island, August 2011
Paperback