Bruce S. Feiler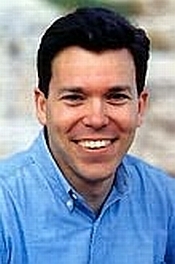 Bruce Feiler has turned his curiosity into a career, writing on topics from clowning to Christianity with a sense of wonder, humor and inquisitiveness. Most recently he has become known as both theological tourist and tour guide, exploring Biblical history and its physical and cultural roots in the 2001 bestseller Walking the Bible and in 2002's Abraham: A Journey to the Heart of Three Faiths.
Feiler had begun his career writing about another culture with Learning to Bow: Inside the Heart of Japan, a funny and enlightening account of his year as an English teacher in a small Japanese town. The book continues to be embraced by those who want a better understanding of Japanese culture, one spiked with the humor of its alien gaijin observer. Feiler depicted another hallowed educational system in Looking for Class: Days and Nights at Oxford and Cambridge, an account of the author's experiences as a graduate student at Cambridge. Feiler's books educate, but their appeal also lies in the discoveries he makes as someone entering a new situation with natural preconceptions, then having those ideas upended by reality.
Kicking the fish-out-of-water theme up a notch, Feiler joined the circus for Under the Big Top: A Season with the Circus. Here, Feiler showed the journalistic enterprise and mettle that would later figure into his bold journeys through Biblical territory. Spending a year performing as a clown on the Clyde Beatty-Cole Bros. Circus, Feiler provides a surprising look at the show, its performers and the often seamy underside that accompanies circus life.
Feiler jumped into yet another milieu with his look at the country music industry, Dreaming Out Loud. Presenting an insider's view of Nashville made possible by his access as a journalist to stars such as Garth Brooks and Wynonna Judd, Feiler puts together of picture of starmaking -- including in his profiles a young talent named Wade Hayes -- and the machinery that runs modern country music. As with his other books, Feiler describes how his notions (he hated country music before Brooks made him a fan) have evolved along with his subject.
Feiler is also an award-winning food writer and journalist who has written articles for major publications such as the New York Times, Rolling Stone, and the New Republic. But he gained a larger audience when he took on his biggest topic yet: the Bible. "Over more than a decade of living and working abroad I found that ideas, and places, became more real to me when I experienced them firsthand....In the Middle East, the Bible is not some abstraction," Feiler wrote in an essay on Barnes & Noble.com about the origins of Walking the Bible. "It's a living, breathing entity unencumbered by the sterilization of time. That was the Bible I wanted to know, and almost immediately I realized that the only way to find it was to walk along those lines myself."
In taking that walk, Feiler vastly expanded his audience and found himself a subject he would stick with. He was already working on a sequel to the book when September 11 redirected him toward one aspect of his earlier studies: the religious father figure of Abraham. He set out to find hope in this binding tie among Judaism, Christianity and Islam; but found, again, a different picture than the one he anticipated painting. Feiler's education is ours; without him asking the questions, we might not have new insights on cultural fixtures that already seem so familiar.
Series
Books:
Generation Freedom, July 2011
Paperback