Amanda Kyle Williams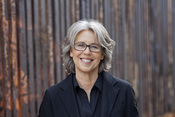 Amanda Kyle Williams has contributed to short story collections, written small press novels and worked as a a freelance writer for the Atlanta Journal-Constitution. She was a house painter, a property manager, a sales rep, a commercial embroiderer, a courier, a VP of manufacturing at a North Georgia textile mill, and owned Latch Key Pets, a pet sitting and dog walking business. She also worked with a PI firm in Atlanta on surveillance operations, and became a court-appointed process server.
"We do what we have to do to keep the lights on while we're waiting for that big break. Working as a process server and with PI and courier firms in Atlanta was wonderful preparation for developing the Keye Street character. It takes time and work to find that unique voice as a writer, and for that voice to reach pitch. And more time to then develop a character that's the perfect vehicle for that voice. Keye Street is that character for me. She's slightly damaged, seriously flawed; a sober alcoholic with a mighty Krispy Kreme doughnut addiction. She makes jokes to avoid intimacy. She's more afraid of heartbreak than she is of whipping out her ten millimeter Glock. She feels real to me. The series is dedicated to my deeply southern Chinese-American niece, Anna."
In order to lend authenticity to her Keye Street series, Amanda took courses in criminal profiling and practical homicide investigation, and frequently consults with professionals in law enforcement, bond enforcement, criminal profiling and forensics.
Amanda is passionate about animals and has been active in the humane community for many years. She is one of the founding directors at Lifeline Animal Project, a nonprofit, no-kill animal welfare organization. Amanda is also a supporter of The Fugees Family.
Series
Books:
Don't Talk to Strangers, July 2014
Keye Street
Hardcover
Stranger In The Room, September 2012
Hardcover
The Stranger You Seek, September 2011
Hardcover