Sofie Kelly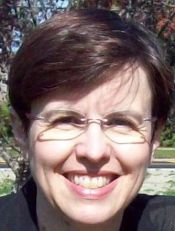 Blogging at Fresh Fiction
Sofie Kelly | Magical Cats Stinky Crackers
October 13, 2016
Food plays an important role in the Magical Cats Mysteries. Kathleen Paulson can Read More...
Sofie Kelly | Kindred Souls
June 6, 2012
Readers of my Magical Cats mysteries know that main character, Kathleen Paulson, and her best friend, Maggie Adams, bonded over their love of the fictional Read More...
Sofie Kelly | Say Cheese!
December 18, 2011
I hate having my picture taken, something I blame equally on my mother and her closest friend, mother of my childhood buddies Bill and Stephen Read More...
Sofie Kelly is the pseudonym of young adult writer and mixed-media artist, Darlene Ryan. Sofie/Darlene lives on the east coast with her husband and daughter. In her spare time she practices Wu style tai chi and likes to prowl around thrift stores. And she admits to having a small crush on Matt Lauer.
Series
Magical Cats
Books:
The Cats Came Back, September 2018
Magical Cats #10
Hardcover
A Tale of Two Kitties, August 2018
Magical Cats #9
Mass Market Paperback (reprint)
A Tale of Two Kitties, September 2017
Magical Cats
Hardcover
Paws and Effect, October 2016
Magical Cats
Mass Market Paperback
Faux Paw, October 2015
Magical Cats #7
Paperback
A Midwinter's Tail, October 2014
Magical Cats
Paperback
Final Catcall, October 2013
A Magical Cats Mystery
Paperback
Cat Trick, February 2013
A Magical Cats Mystery #4
Paperback
Copycat Killing, May 2012
Magical Cats #3
Paperback
Sleight Of Paw, September 2011
Magical Cats #2
Mass Market Paperback
Curiosity Thrilled The Cat, February 2011
Magical Cats #1
Mass Market Paperback