Kathleen Warnock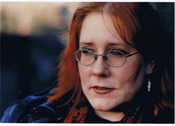 Kathleen Warnock is a playwright and editor. She is the series editor for Best Lesbian Erotica (Cleis), and an editor for Frommer's Travel Guides. She also founded and hosts the reading series Drunken! Careening! Writers! at KGB Bar in New York City (since 2004).
Her plays have been produced in New York City, London, Dublin (Ireland and Georgia) and regionally. Several of them are published or in anthologies.
She is Playwrights Company manager for Emerging Artists Theatre, and curates the Robert Chesley/Jane Chambers Playwrights Projects. She is Ambassador of Love for the Dublin Gay Theatre Festival, and a member of The Dramatists Guild.
Series
Books:
Best Lesbian Erotica 2014, December 2013
Paperback
Best Lesbian Erotica 2013, January 2013
Paperback
Best Lesbian Erotica 2012, December 2011
Paperback
Best Lesbian Erotica 2011, December 2010
Paperback