Jennie Schacht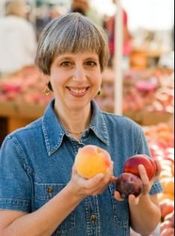 JENNIE SCHACHT is a culinary writer and consultant and author of several cookbooks, with more in the works. In addition to writing her own books, she specializes in bringing the voices and culinary perspectives of chefs and pastry chefs to the written page. She also works with authors to develop and strengthen their own book proposals.
Jennie is founder and principal of Schacht & Associates, a consulting firm helping health, human service, hunger relief, and other public and not-for-profit organizations, including many that bridge her dual interests in food and social justice. To date, S&A has developed grant proposals resulting in funding of more than $125 million to health and human services organizations. S&A's Proposal Check-Up service helps those writing their own grant proposals to strengthen them in order to improve their chances of funding.
Jennie holds a Certificate in Food and Beverage Management from the School of Hotel Administration at Cornell University and a Masters Degree in Social Welfare from the University of California at Berkeley. She served as 2006 President of the San Francisco Professional Food Society.
Series
Books:
Farmers Market Desserts, May 2010
Hardcover