Marilyn Berger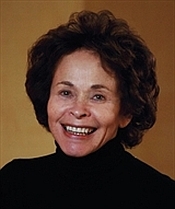 Marilyn Berger has been a journalist for more than forty years during which she covered some of the major news stories of our time, from the Cultural Revolution in China to the brief springtime of Prague, the Vietnam peace process and the continuing crises in the Middle East.

As a reporter for Newsday, she was the United Nations correspondent during the Six-Day War in the Middle East where she monitored the battles and the negotiations. She later went to Israel to see the results of a war some thought would be the last in the region, regrettably a misguided belief. Successive crises in the Middle East became her beat, and she traveled there extensively when she reported on Henry Kissinger's shuttle diplomacy for The Washington Post and contributed an article on the subject to The New Yorker. That was some time after she covered the Paris negotiations on Vietnam and was then dispatched to Prague to report on the brief springtime thaw in Czechoslovakia before the Russians invaded and scotched hopes for freedom.

At The Washington Post, she reported on critical foreign trade negotiations and on arms control.
Series
Books:
This Is A Soul, April 2010
Hardcover