Patti Smith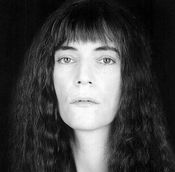 Photo Credit: Robert Mapplethorpe

Patti Smith is a writer, performer, and visual artist. She gained recognition in the 1970s for her revolutionary mergence of poetry and rock. Her seminal album Horses, bearing Robert Mapplethorpe's renowned photograph, has been hailed as one of the top 100 albums of all time. She has recorded twelve albums.
Smith had her first exhibit of drawings at the Gotham Book Mart in 1973 and has been represented by the Robert Miller Gallery since 1978. In 2002, the Andy Warhol Museum launched Strange Messenger, a retrospective exhibit of her drawings, silk screens, and photographs. Her drawings, photographs, and installations were shown in a comprehensive exhibit in 2008 at the Fondation Cartier Pour l'Art Contemporain in Paris.
Her books include Witt, Babel, Woolgathering, The Coral Sea, and Auguries of Innocence.
In 2005, the French Ministry of Culture awarded Smith the prestigious title of Commandeur des Arts et des Lettres, the highest honor awarded to an artist by the French Republic. She was inducted into the Rock and Roll Hall of Fame in 2007.
Smith married the late Fred Sonic Smith in Detroit in 1980. They had a son, Jackson, and a daughter, Jesse. Smith resides in New York City.
Series
Books:
M Street, October 2015
Hardcover
Just Kids, November 2010
Paperback
Just Kids, January 2010
Hardcover