Kelli Stanley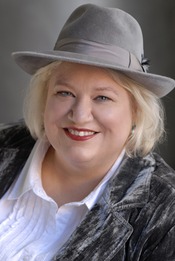 Kelli Stanley is an award-winning author of crime fiction (novels and short stories). She makes her home in Dashiell Hammett's San Francisco, a city she loves to write about.
Kelli earned a Master's Degree in Classics, loves jazz, old movies, battered fedoras, Art Deco and speakeasies. She is walked daily by a Springer Spaniel named Bertie. She credits Raymond Chandler, Ernest Hemingway, Cornell Woolrich, Dashiell Hammett and Thomas Hardy as some of her major influences.
CITY OF SECRETS, the thrilling sequel to CITY OF DRAGONS, launches on September 13th, 2011. The San Francisco-set CITY OF DRAGONS, was released by Thomas Dunne/Minotaur on February 2, 2010 to overwhelming critical acclaim, and was a finalist for the prestigious Los Angeles Times Book Prize. First of a hard-hitting new thriller series, it introduced the unforgettable protagonist Miranda Corbie—ex-escort and now private investigator.
"Children's Day", a short story prequel to CITY OF DRAGONS and set during the 1939 World's Fair in San Francisco, was published in the bestselling International Thriller Writer's anthology, FIRST THRILLS: HIGH-OCTANE STORIES FROM THE HOTTEST THRILLER WRITERS, on June 22, 2010. Kelli also recently contributed a story to SHAKEN: STORIES FOR JAPAN, the first charity-driven e-book anthology. The brain child of author Timothy Hallinan, all the proceeds from SHAKEN, including Amazon's, go to benefit victims of the Japanese earthquake. Kelli's story is called "Coolie", and is set in the immediate aftermath of the 1906 San Francisco earthquake.
Series
Books:
City of Sharks, March 2018
A Miranda Corbie Mystery #4
Hardcover
City Of Ghosts, August 2014
Hardcover
City Of Secrets, September 2011
Hardcover
City of Dragons, February 2010
A San Francisco Mystery
Hardcover