Delilah Marvelle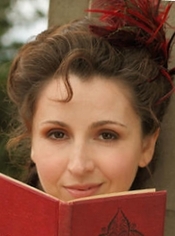 I spent my youth studying various languages, reading voraciously, and playing the pianoforte. I confess that here ends the extent of my gentle breeding. I was a naughty child who was forever torturing her parents with countless adventures that they did not deem respectable. Confined to my room on many occasions due to these misadventures, I soon discovered the quill and its amazing power. I scribed endless stories that almost invariably surrounded the topic of love, for I felt an inane need to be rescued from a family that did not understand my lust for life. In my mind, King Arthur became my true love and I waited for the day when he would come riding upon his steed and invite me to sit at his round table, not as his queen, but as his knight. To my distress, King Arthur was never to be found anywhere except for in the tip of my quill.
And so I led an imaginary life for many, many years. When I finally came of age, my family was further horrified to discover that I had fallen in love with an American. An American King Arthur who became my knight, my husband, my all. I have been blessed beyond reason and am grateful for each day I have with him. What is equally amazing is that I now have the opportunity to share my passion for stories with the public.
The reason why I write romance is because it allows me to touch upon the subject of love on a much deeper, more intimate level. Many of the stories I write, many of the stories I will continue to write, will always evolve around love. And yes, gentle readers, it will also evolve around sex as I have no intention of becoming my parents and restraining my characters from what it is they truly desire to do. I challenge you, my readers, to let loose of those corsets that have been strung too tightly due to convention and enjoy 1830 to its fullest.
Series
Rumor
Books:
This Duke of Mine, August 2018
A Grimm's Fairy Tale Historical Romance
e-Book
Master of Pleasure, December 2014
School of Gallantry #5
e-Book
Tempted by His Touch, August 2014
e-Book (reprint)
Night of Pleasure, March 2014
School of Gallantry
Trade Size
All I Want for Christmas is a Duke, December 2012
e-Book
Forever A Lady, August 2012
Paperback
Forever And A Day, January 2012
Rumor #1
Paperback
Forever Mine, December 2011
Rumor
e-Book
The Perfect Scandal, March 2011
Paperback
Once Upon A Scandal, January 2011
Paperback
Prelude to a Scandal, January 2011
The Scandal #1
Mass Market Paperback
Lord Of Pleasure, August 2009
Paperback
Mistress Of Pleasure, September 2008
Paperback