Tom Bergeron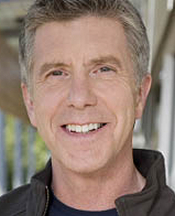 Tom Bergeron is an Emmy Award-winning host who brings pizzazz and style to his new show Supper Club with Tom Bergeron, where each week he hosts an entirely green Hollywood dinner party. At each meal, Bergeron plays host to some of the most provocative and entertaining guests as he brings together film, television and music stars, along with renowned authors, politicians, journalists and scholars, to discuss and debate pressing environmental issues while dining on a masterfully prepared green feast.
Bergeron has spent his entire adulthood in broadcasting and TV, beginning his career in 1972 at age 17 in his hometown of Haverhill, Mass. Bergeron then spent over a decade with WBZ-TV in Boston, hosting a number of TV shows.
In 1994, Bergeron became host of Breakfast Time on fX. The show enjoyed moderate success and morphed into Fox After Breakfast on the FOX network. Unfortunately, the show was canceled after one season on FOX. Bergeron quickly rebounded to become a fill-in anchor on Good Morning America in 1997, a position he held until becoming the host of Hollywood Squares in 1998.
While hosting Hollywood Squares, Bergeron moonlighted as a fill-in anchor on CBS' The Early Show. Bergeron later signed a contract with ABC News as a guest host on Good Morning America after Charles Gibson's departure. Bergeron became the host of ABC's America's Funniest Home Videos in 2001, and, in 2005, made a splash as the host of the ABC hit Dancing with the Stars.
Series
Books:
I'm Hosting as Fast as I Can, April 2009
Hardcover