Richard Scarry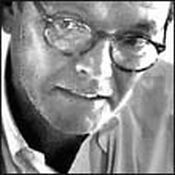 "I'm not interested in creating a book that is read once and then placed on the shelf and forgotten," Richard Scarry once said. "I am very happy when people write that they have worn out my books, or that they are held together by Scotch tape. I consider that the ultimate compliment." Considering the propensity of Scarry's preschool-age readership to ask for their favorite books again and again, it's a compliment he must have received often during his tenure as one of the most popular children's authors of all time.
Scarry began his career as a freelance illustrator, drawing pictures to accompany the text of books by children's authors such as Margaret Wise Brown, Kathryn Jackson, and Patricia Murphy (who became Patricia Scarry when she married Richard in 1949). His first two efforts at writing his own books, The Great Big Car and Truck Book (1951) and Rabbit and His Friends (1953), already suggest some of his interests as an author: travel, technology, and talking animals.
But it was the 1963 publication of Richard Scarry's Best Word Book Ever that put Scarry on bestseller lists, and established his signature style. Its densely packed pages are populated by anthropomorphic animals at work and play, in drawings that reward multiple readings with details children (and parents) may not notice at first glance. The large-format book contains over 1400 illustrated and labeled objects, along with simple introductions to concepts like sharing and helping.
In Busy, Busy World (1965), Scarry's animals star in a series of international adventures in such far-flung locales as Paris, Rome, and Algeria. Well before multiculturalism was an educational buzzword, Scarry believed he could use animals to help children imaginatively enter others' experiences. In a Publishers Weekly interview, he explained that "children can identify more closely with pictures of animals than they can with pictures of another child. They see an illustration of a blond girl or a dark-haired boy, who they know is somebody other than themselves, and competition creeps in. With imagination -- and children all have marvelous imagination -- they can easily identify with an anteater who is a painter or a goat who is an Indian."
Though Scarry soon abandoned exotic settings in favor of the fictional Busytown, he continued to illustrate different roles in society with cherubic critters like Postman Pig, Huckle Cat, Sergeant Murphy, and Lowly Worm. Once he had developed a cast of characters, he introduced them into everything from picture dictionaries and activity books to mystery stories and manners lessons.
Scarry's books, which have sold over 100 million copies and been translated into 30 languages, always reflected his own curiosity about the world. "Wherever I go, I'm watching," he liked to say. "Even on vacation, when I'm in an airport or a railroad station, I look around, snap pictures, and find out how people do things." In relating his discoveries to children, he expanded not only their vocabularies, but their understanding of the "busy world" as a social community in which people work, play, cooperate and share.
Log In to see more information about Richard Scarry
Log in or register now!
Series
Books:
What Do People Do All Day?, February 2001
Hardcover