Mo Willems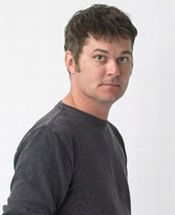 Author/illustrator Mo Willems began his career as a writer and animator for television, where he garnered six Emmy awards for his writing on Sesame Street, created Cartoon Network's Sheep in the Big City and head-wrote Codename: Kids Next Door.
Mo turned his attention to picture books in 2003 with Don't Let the Pigeon Drive the Bus!, which was awarded a Caldecott Honor, and became a New York Times Bestseller. The book has been translated into a myriad of languages, been turned into a musical theater production, and hatched a series of Pigeon books including The Pigeon Finds a Hotdog! and Don't Let the Pigeon Stay Up Late! The New York Times Book Review wrote "the Pigeon is one of this decade's contributions to the pantheon of great picture book characters."
Since then, Mo has won two more Caldecott Honors for Knuffle Bunny: A Cautionary Tale and Knuffle Bunny Too: A Case of Mistaken Identity. He was also awarded the Theodor Seuss Geisel Medal for There Is a Bird on Your Head!, part of his Elephant and Piggie early reader series.
Mo's other books include Leonardo the Terrible Monster, Edwina, the Dinosaur Who Didn't Know She Was Extinct, Time to Pee!, and You Can Never Find a Rickshaw When It Monsoons, an annotated cartoon journal sketched during a year-long voyage around the world in 1990-91.
Mo lives in Brooklyn, New York with his family.
Series
Books:
Elephants Cannot Dance!, June 2009
An Elephant and Piggie Book
Hardcover
The Pigeon Wants a Puppy, April 2009
Hardcover
Naked Mole Rat Gets Dressed, January 2009
Hardcover
Are You Ready To Play Outside?, October 2008
Hardcover
The Pigeon Loves Things That Go!, June 2005
Hardcover
Knuffle Bunny: A Cautionary Tale (Bccb Blue Ribbon Picture Book Awards (Awards)), September 2004
Hardcover