Mitzi Szereto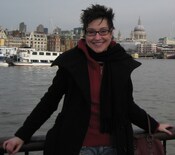 Pseudonym: M.S. Valentine.

Mitzi Szereto writes and edits across the genres, blogs at Errant Ramblings: Mitzi Szereto's Weblog, and creates and presents Mitzi TV, which covers the "quirky" side of London, England.
Her books include Oysters and Pearls: Collected Stories; Rotten Peaches (The Thelonious T. Bear Chronicles) and Normal for Norfolk (The Thelonious T. Bear Chronicles) - both co-written with celebrity author bear Teddy Tedaloo; Phantom: The Immortal (co-written with Ashley Lister); Love, Lust and Zombies; Darker Edge of Desire: Gothic Tales of Romance; The Wilde Passions of Dorian Gray; Thrones of Desire: Erotic Tales of Swords, Mist and Fire; Pride and Prejudice: Hidden Lusts; Red Velvet and Absinthe: Paranormal Erotic Romance; In Sleeping Beauty's Bed: Erotic Fairy Tales; Getting Even: Revenge Stories; Dying for It: Tales of Sex and Death; Wicked: Sexy Tales of Legendary Lovers; The New Black Lace Book of Women's Sexual Fantasies; the Erotic Travel Tales anthology series and The World's Best Sex Writing 2005. Her anthology Erotic Travel Tales 2 is the first anthology of erotica to feature a Fellow of the Royal Society of Literature. She divides her time between the UK and the Pacific Northwest.
Series
Gothic
Books:
Florida Gothic, August 2017
Gothic #1
e-Book
Oysters and Pearls: Collected Stories, November 2016
Paperback
Phantom: The Immortal, February 2016
Paperback
Darker Edge of Desire, October 2014
Paperback
Wilde Passions Of Dorian Gray, November 2013
Paperback
Thrones Of Desire: Erotic Tales Of Swords, Mist And Fire, September 2012
Paperback
Normal For Norfolk, July 2012
The Thelonious T. Bear Chronicles #1
Paperback
Red Velvet And Absinthe, September 2011
Trade Size
Pride & Prejudice, July 2011
Trade Size
In Sleeping Beauty's Bed, September 2009
Paperback
Silk Sheets, November 2008
e-Book
The New Black Lace Book of Women's Sexual Fatasies, June 2008
Trade Size
Getting Even, June 2008
Paperback
Dying For It, August 2006
Paperback
The World's Best Sex Writing 2005, December 2005
Paperback
Wicked, March 2005
Sexy Tales Of Legendary Lovers
Paperback
Foreign Affairs, August 2004
Paperback
Erotic Travel Tales 2, March 2003
Paperback

Videos
Click Title to Play
Normal For Norfolk