Anne Bercht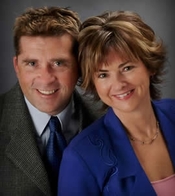 Anne and Brian Bercht are authors, speakers, and relationship coaches. Together they have appeared television and radio programs throughout North America including Oprah Winfrey, Montel Williams, American Family, Marriage Uncensored, Northwest Afternoon, Vicki Gabereau, and many more.
They are authors of My Husband's Affair Became the Best Thing That Ever Happened to Me, which is fast becoming a Canadian Bestseller.
They have written numerous articles on affair prevention and recovery, many of which are published on their website, www.passionatelife.ca . They have been featured in newspapers and magazines throughout North America including Reader's Digest and the recent February 20, 2006 issue of Newsweek.
They have been workshop presenters for Smarter Families Canada, where Anne also serves on the advisory board, and this year they joined North America's foremost experts on marriage as seminar presenters at the Smart Marriages Conference in Atlanta.
Anne is the new director for the International Beyond Affairs Network, successor to affairs expert, Peggy Vaughan.
Married 25 years, they reside in Abbotsford, British Columbia, Canada. They have three children Danielle 22, Dustin 21 & Tamara 19.
Together they are helping couples build solid, happy, passionate and fulfilling marriages with amazing success.
Candidly, they share the lessons they've learned so others can prevent affairs. Having overcome an extramarital affair in their own marriage, they speak from the heart helping couples to recover from infidelity.
Series
Books:
My Husband's Affair, August 2004
Paperback