Dee Dee Myers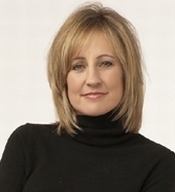 Dee Dee Myers is the first woman and youngest person ever to serve as White House Press Secretary. During the first years of the Clinton Administration, Ms. Myers explained the actions of the new president to a vigilant press corps and to the nation. She earned the respect of both with her sharp political instincts, sense of humor and ability to explain complex subjects in straightforward language. Since leaving the white house, Ms. Myers has worked as a political analyst, commentator and writer.
Ms. Myers is currently a Contributing Editor to Vanity Fair magazine and a frequent political commentator on NBC and MSNBC. After leaving the White House, Ms. Myers was an original consultant to the NBC series, The West Wing, and contributed story lines and technical advice throughout its prizewinning long run. In March of 1999, Gov. Gray Davis appointed Ms. Myers to the California State University Board of Trustees. The Board sets policy for the 23-campus Cal State system, the largest public university in the world.
Before joining the Clinton campaign in 1991, Ms. Myers worked on a variety of local, state and national campaigns. She served as press secretary for Dianne Feinstein in her 1990 bid for governor, and worked on the presidential campaigns of Gov. Michael S. Dukakis and Vice President Walter F. Mondale. She also worked on the staffs of Los Angeles Mayor Tom Bradley and California State Senator Art Torres.
Ms. Myers also spent two years as the liberal co-host of the CNBC talk show Equal Time, discussing daily political developments with conservative co-hosts Mary Matalin and later, Bay Buchanan. She left the show in 1997.
In her speeches, Ms. Myers brings the same sense of clarity and humor as when she controlled the media flow from the White House to talk candidly about the players in Washington and the world of politics. Ms. Myers speaks personally and eloquently on the issues facing women in Washington and in leadership positions of all kinds. As an expert Washington-watcher, Ms. Myers is one of the top commentators on national elections, the players and the issues.
Ms. Myers is 1983 graduate of Santa Clara University. She lives in Washington, D.C. with her husband, Todd S. Purdum, a correspondent for The New York Times, and their daughter, Kate, and son, Stephen.
Series
Books:
Why Women Should Rule the World, March 2008
Hardcover