Veronica Wolff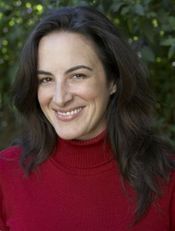 Once upon a time there was a girl. She liked horses and Shaun Cassidy and Gunne Sax dresses, like many of the other girls her age. She had a big, loving family and, since their dad was in the Navy, they moved around. A lot. She was shy, though, and generally preferred a day spent in the company of her Trixie Belden books to running around with the other kids, whom she really didn't know very well anyway.
She grew up and she still preferred the company of books, so she read, and she read some more, and she loved romantic stories, and stories about dragons and young men on quests, and stories by Jane and Daphne and Emily and Charlotte. But this girl realized that seeing all different kinds of places and all different kinds of people had become a part of who she was, and so she studied languages and art from faraway places. But she could be dramatic, and so she decided to study all of that while living in India. And then she studied in India again. For a long time. And she thought that, when she grew up some more, she would be a fancy professor and write linguistic papers and teach students about art and do other fancy-professor things.
But first she moved to California, where she had never been, because it seemed the place to move to start such a new and fabulous life. And she got a job to pay the rent. She discovered she still loved books that drew her in, and made her cry, and kept her awake till she had to scrunch her eyebrows to see the words clearly. And she realized too that she much preferred those books to the ones that mostly just taught her stuff and made her feel anxious that she wasn't busy making grand statements in grand journals. And while she was figuring all this out, she needed money, and so she did what many of the other girls in California were doing and she got a job doing Internet stuff.
And she met her hero, and they married, and they got some pets and had some kids. But she still liked to go places in her mind as she stared out the window while doing things like washing bottles and burping babies, and so she started writing a story. And you can imagine the rest.
Now that she's grown up, she likes to see movies and read books, cut flowers from her garden, spend time with friends and drink wine, and go snowboarding. Not all at the same time of course. And she still loves stories about dragons, but mostly she loves stories about love.
Log In to see more information about Veronica Wolff
Log in or register now!
Series
Books:
Timber Creek, January 2013
Sierra Falls
Mass Market Paperback
Sierra Falls, April 2012
Paperback
Vampire's Kiss, March 2012
Watchers #2
Paperback
Isle Of Night, September 2011
The Watchers #1
Trade Size
Devil's Own, March 2011
Clan MacAlpin #2
Mass Market Paperback
Devil's Highlander, August 2010
Clan MacAlpin #1
Paperback
Ladies Prefer Rogues, February 2010
Paperback
Lord Of The Highlands, November 2009
Paperback
Warrior Of The Highlands, January 2009
Paperback
Sword of the Highlands, June 2008
Paperback
Master of the Highlands, February 2008
Paperback