Garfield Reeves-Stevens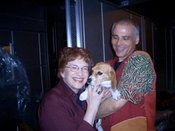 IN THE WORLD OF TELEVISION, Judith and Garfield's newest production is Primeval: New World, the series they created as a spin-off from the original U.K. show, Primeval. Set in Vancouver, the series is not a remake or a reboot, but exists in the same story universe as the original: Mysterious "temporal anomalies" have spread to Canada, and now a new team of mismatched experts and unlikely heroes must contend with the prehistoric creatures that emerge to wreak havoc in all-new adventures. Judith and Garfield wrote the pilot and two additional episodes for the first season, scheduled to air in Canada on SPACE, and in the UK on WATCH, in Fall, 2012.
In addition to having a new science-fiction drama in development at SPACE, and a chilling new series based on one of Garfield's early horror novels in development at HBO Canada, the writing team's newest television development project is Phoenix Rising, a reboot of the cult classic science-fiction series, Captain Power and the Soldiers of the Future. Originally intended to be a children's show to support a new line of interactive toys from Mattel, creator Gary Goddard and showrunner J. Michael Straczynski of Babylon 5 fame wove together complex storylines and compelling characters that appealed to adult viewers as well. With the original series celebrating its 25th anniversary in 2012, the stage is set for an all-new look at the Metal Wars, "When man fought machines, and machines won."
IN OTHER TELEVISION WORK, Judith and Garfield were invited by Manny Coto to join the fourth-season writing staff of Star Trek: Enterprise. In Star Trek Communicator magazine, Executive Producer Rick Berman praised the Reeves-Stevenses, saying, "They are just dynamite. We are kicking ourselves at not having found them years ago. They are both absolute cracker-jack writers, both incredibly impressive… they write crisp, clean dialogue and a good story. They are godsends." Judith and Garfield wrote five episodes for the season. Aintitcool.com hailed their first, "The Forge," as "not only the best episode of Enterprise, but the best episode of Star Trek."
Prior to Enterprise, Judith and Garfield were supervising producers on location in Australia for the third season of Sir Arthur Conan Doyle's The Lost World—the syndicated one-hour action-adventure series from Coote/Hayes Productions and New Line. There, they wrote ten of the season's twenty-two episodes. Judith and Garfield had joined the series as staff writers in its second season, writing five episodes.
Another of their television projects was literally out of this world: Race to Mars, a four-hour miniseries for Discovery Channel Canada and the Science Channel. Part of an unprecedented television event produced by Galafilm, Race to Mars is the companion piece to Mars Rising, a six-hour documentary series detailing the current state of Mars exploration. Judith and Garfield worked with more than seventy scientific and technical advisors to create the dramatic story of the first human mission to Mars in the year 2031. The Toronto Star praised the miniseries as "a tautly written tale that simply zings with tension… a dramatic winner."
IN ANIMATION, for their contributions to the Emmy Award-winning Batman: The Animated Series, Judith and Garfield shared an Emmy Certificate for Outstanding Achievement in Animation Writing. For Hearst Animation, they co-developed and served as Executive Story Editors on Phantom 2040, based on the classic costumed crime fighter created by Lee Falk. Wired magazine said of the series, "Not just another merchandising scam, Phantom 2040 is spectacularly written with smart dialog, an intricate story-line, and animation to match." In a departure from television, for Universal Studios Judith and Garfield wrote Van Helsing: The London Assignment, the direct-to-DVD animé prequel to the Stephen Sommers blockbuster starring Hugh Jackman. The DVD was released the week following the movie's opening and praised by Variety as "an excellent animated prequel... the intelligent story moves at a rapid clip and the action is nail-biting."
Log In to see more information about Garfield Reeves-Stevens
Log in or register now!
Series
Books:
Wraith, March 2013
Hardcover
Collision Course, October 2007
Star Trek: Academy
Hardcover