Terri Irwin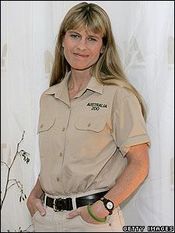 Photo Credit: Getty Images

Terri Irwin was born in Eugene, Oregon, in 1965. When she grew up her dad use to bring home injured animals, he found along the highway, Terri would help nurse the animals back to health, which made Terri commit to save and rehabilitate wildlife.
In 1986 Terri started a rehabilitation facility named "Cougar County" it helped such animals as cougar, fox, raccoon, bear and bobcat. In 1989 Terri joined a veterinary hospital as a vet technician while still running Cougar County.
In 1991 Terri visited Australia to look for inspiration at various zoos and wildlife facilities and she spent a lot of time touring them. When she visited Queensland Reptile and Fauna Park (now Australia zoo) she met Steve Irwin during a crocodile demonstration, a meeting that would changed her life forever. After a whirlwind courtship, Terri became Mrs. Steve Irwin in 1992, they had known each other in 8 months. Terri and Steve spend their honeymoon filming their first wildlife documentary. Terri quickly adapted to her new role beside Steve at Australia Zoo, feeding and caring for their hundreds of animals and accompanying him on his wildlife adventures. In 1998 Terri gave birth to their first daughter, Bindi Sue, they named there daughter after Steve's favourite crocodile and his dog. In 2003 Terri gave birth to Robert (Bob) Clarence, named after Steve and Terri's dad.
In 2006 on September 4th Steve was killed at a freak accident by a stingray, while filming a documentary, leaving Terri a grieving widow caring for there two young children, and Australia zoo.
Series
Books:
Steve and Me, November 2007
Hardcover