Bobby Flay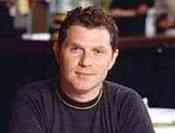 Bobby Flay's culinary versatility is evident in his work as a chef/restaurateur, cookbook author, and television personality. However his first priority always remains with his restaurants, Mesa Grill, Bolo, and the Mesa Grill at Caesars Palace in Las Vegas. In addition, plans have recently been announced to open Flay�s American Brasserie, Bar Americain.
Mesa Grill opened in 1991 and quickly developed a following for its innovative interpretation of Southwestern cuisine. It was dubbed "Best Restaurant" by New York magazine�s Gael Green, and, in his 2000 review, The New York Times� William Grimes noted that "Mr. Flay, to his credit, has seized on the Southwestern idiom and made it a natural part of his cooking language."
Flay then took inspiration from the bravado of Spanish food, opening Bolo in 1993. His deft blending of the unique flavors of Spain with more familiar American ingredients resonated with diners. That same year, Flay was voted the James Beard Foundation�s Rising Star Chef of the Year. A decade later, its menu reenergized by the introduction of tapas, Bolo was awarded a rare three stars by The New York Times.
Critic William Grimes declared that "Mr. Flay brings color, life, and creativity to every dish he touches," adding that "Bolo sparkles with bright ideas."
Now, food lovers visiting Las Vegas can enjoy Flay�s own amalgamation of innovative food and inviting hospitality as Mesa Grill opens at the legendary Caesars Palace. The city�s upbeat urban vibrancy mixed with its warm desert hues is the perfect backdrop for Mesa Grill�s cuisine.
Eager to share the skills he honed at the venerable French Culinary Institute, Flay has taken his talents to the small screen. Since debuting on the Food Network in 1996, Flay has continuously hosted programs that bring cooking tips and information on American regional fare to a national audience. He appears on four shows, including his newest, "BBQ with Bobby Flay," the Emmy- nominated "Boy Meets Grill," the beloved "FoodNation with Bobby Flay," and "Hot Off the Grill with Bobby Flay." Flay also serves as the food correspondent for "The Early Show on CBS".
In addition to his restaurants and television shows, Flay shares his knowledge and enthusiasm for food through his informative, colorful cookbooks. May 2004 saw the publication of Boy Gets Grill (Scribner 2004), the highly anticipated sequel to Boy Meets Grill (Hyperion 1999). With this, his fifth cookbook, Flay proves yet again that almost anything can be cooked on the grill, and with more flavor and excitement than was ever thought possible.
As passionate about New York as he is about food, Flay has found a unique way to give back to the community by establishing a culinary scholarship for New York City high school students. He works closely with budding young chefs in Long Island City High School�s C-Cap, or "Careers through Culinary Arts Program." Flay then personally selects the student with the greatest potential to be the recipient of an annual scholarship that he established at his alma mater, the French Culinary Institute.
Flay keeps a busy schedule with no signs of slowing down. While he oversees many projects, each is infused with his culinary passion and zest for life.
Series
Books:
Bobby Flay's Barbecue Addiction, May 2013
Hardcover
Bobby Flay's Bar Americain Cookbook, September 2011
Hardcover
Bobby Flay's Throwdown!, October 2010
Hardcover
Bobby Flay's Burgers, Fries and Shakes, April 2009
Hardcover
Bobby Flay's Grill It!, May 2008
Hardcover
Bobby Flay's Mesa Grill Cookbook, October 2007
Hardcover
Bobby Flay's Grilling For Life, May 2005
Hardcover
Bobby Flay's Boy Gets Grill, May 2004
Hardcover