Howard Kurtz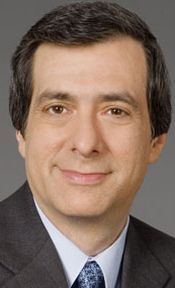 Howard Kurtz is the host of the weekly CNN program Reliable Sources, which turns a critical lens on the media. Kurtz leads the scrutinizing of the media's fairness and objectivity by questioning journalists of top news organizations, including those at CNN.
Kurtz is the media reporter for The Washington Post and writes a regular column called Media Notes. He joined the paper in 1981, after the demise of The Washington Star, and has covered urban affairs, the Justice Department and Capitol Hill. He has also served as The Washington Post's New York bureau chief. He has covered the media since 1990.
Kurtz is the author of four books on the media. His most recent is The Fortune Tellers (Free Press), which takes a look at the relationship between the media and Wall Street. He is also the author of Spin Cycle: Inside the Clinton Propaganda Machine (Free Press), a best-selling book about how the Clinton White House dealt with scandal and the press. Kurtz also has written Hot Air: All Talk All the Time, described by The New Yorker as "the definitive book on the talk show explosion." His first book, Media Circus: The Trouble with America's Newspapers, was voted the best recent book about the media by American Journalism Review in 1995.
Kurtz has written for Vanity Fair, The New Republic, The Washington Monthly, New York Magazine, and Columbia Journalism Review.
He is a native of Brooklyn, New York. From CNN.com
Series
Books:
Reality Show, October 2007
Hardcover