Terry Odell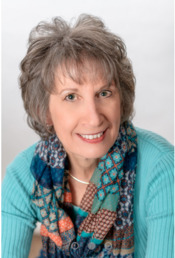 Blogging at Fresh Fiction
Terry Odell | Getting Sidetracked Can Be Good
November 15, 2013
When I set out to write DANGEROUS CONNECTIONS, the fifth book in my Read More...
Terry Odell | What's Romantic Suspense
September 15, 2012
According to the publishing industry, romantic suspense includes all romance-themed mystery sub-genres, from cozy to thriller. There's the added hero/heroine story Read More...
Terry Odell took up writing when she ran out of space on her walls for needlepoint and needed another creative outlet. She began writing what she though was a mystery, until her daughters told her it was a romance. An avid mystery reader, she now combines her love of mystery with the happily ever after of romance. She is the author of six romantic suspense novels, with three publishers. In addition to the 2012 HOLT Medallion for Best Romantic Suspense, she's been a finalist in the Daphne du Maurier, the Gayle Wilson Award of Excellence, the Aspen Gold, as well as placing in the Laurel Wreath, and Best of the Best from Night Owl Romances. In addition, she is the author of numerous contemporary romance short stories with The Wild Rose Press.
When she writes, one of her favorite methods of developing characters is to shove them together and listen to them talk. She enjoys sharing what she's learned about writing with others, and has given workshops for libraries and writing groups. A graduate of UCLA, she now makes her home in the mountains of Colorado where she can work on her next book and watch the wildlife from her window.
Books:
What's In A Name?, December 2013
Audio
Dangerous Connections, October 2013
Blackthorne Inc. #5
Trade Size
Deadly Bones, November 2012
Mapleton Mystery #2
e-Book
Nowhere to Hide, June 2012
Pine Hills Police
e-Book
Rooted in Danger, April 2012
Blackthorne Inc. #3
Hardcover
Saving Scott, April 2012
Pine Hills Police #3
e-Book
Deadly Secrets, December 2011
Mapleton Mystery
e-Book
Danger In Deer Ridge, September 2011
Blackthorne Inc.
Paperback
Hidden Fire, September 2011
Pine Hills Police #2
e-Book
Finding Sarah, September 2011
Pine Hills Police #1
e-Book (reprint)
Where Danger Hides, May 2011
Blackthorne Inc. #2
e-Book (reprint)
What's In a Name?, January 2011
e-Book (reprint)
When Danger Calls, October 2010
Blackthorne Inc. #1
e-Book (reprint)

Videos
Click Title to Play
When Danger Calls