Deborah LeBlanc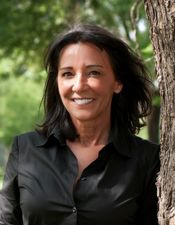 Blogging at Fresh Fiction
Deborah LeBlanc | When Stereotypes Are in Stereo
September 29, 2008
As a writer, I work hard at breaking away from stereotypes, which isn't always easy, especially if it involves a culture you're not Read More...
Deborah LeBlanc was born in Lafayette, Louisiana, the oldest of three children. She grew up in Scott, a small town west of Lafayette, where she developed her earliest aspiration in life; to read every book in the town library. Her first short story was written in the second grade, a tale about a misfit mermaid who grew legs. Admonished for writing the story instead of doing an assigned arithmetic lesson, Deborah's teacher confiscated the pages, and as recompense for not following instructions, gave her an additional math lesson to complete. At the end of the school day, the teacher pulled Deborah aside. Fearing that she might be forced to do additional math, Deborah listened in amazement as the teacher told her she'd read the mermaid story, thought she was a wonderful storyteller, and encouraged her to continue writing. Though the pages of that story were never returned, Deborah has been writing ever since. And she still hates math. Once school was behind her, Deborah chose to keep south-central Louisiana as her home, wanting to surround her three daughters with the wonderful people and traditions so unique to their Cajun heritage.
Always drawn to a challenge, Deborah's work career revolved around male dominated industries. She served as a sales representative for an oil company, an executive vice-president for a transportation company, and eventually created two corporations of her own. One involving fuel, the other management consultation for funeral service.
Through the years, Deborah maintained an insatiable appetite for reading and writing. She is an active member of several writers groups and has won numerous awards from her colleagues and national writing associations.
Series
Books:
The Keepers: Christmas in Salem, November 2014
Paperback
The Keepers: Christmas in Salem, November 2013
Paperback
Wolven, December 2010
Paperback
Water Witch, October 2008
Mass Market Paperback
Morbid Curiosity, July 2007
Mass Market Paperback
A House Divided, June 2006
Mass Market Paperback
Grave Intent, July 2005
Mass Market Paperback
Family Inheritance, August 2004
Mass Market Paperback