Alethea Kontis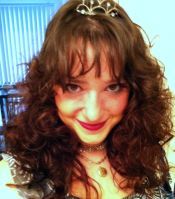 New York Times bestselling author Alethea Kontis is a princess, a goddess, a force of nature, and a mess. She's known for screwing up the alphabet, scolding vampire hunters, turning garden gnomes into mad scientists, and making sense out of fairy tales.
Alethea is the co-author of Sherrilyn Kenyon's Dark-Hunter Companion, and penned the AlphaOops series of picture books. She has done multiple collaborations with Eisner winning artist J.K. Lee, including The Wonderland Alphabet, The Umbrella of Fun, and the illustrated Twitter serial "Diary of a Mad Scientist Garden Gnome."
Born in Burlington, Vermont, Alethea now lives in Northern Virginia with her Fairy Godfamily. She makes the best baklava you've ever tasted and sleeps with a teddy bear named Charlie.
Series
Books:
The Simi's ABCs, December 2017
Hardcover
Enchanted, May 2012
Hardcover
The Dark-Hunter Companion, November 2007
Paperback