Kimberly Van Meter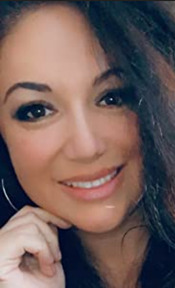 An avid reader since before she can remember, Kimberly Van Meter started her writing career at the age of sixteen when she finished her first novel, typing late at night and early in the morning on her mother's old portable typewriter.
Although that first novel was nothing short of literary mud, with each successive piece of work she improved her writing and eventually reached that coveted published status. A journalist (who during college swore she'd never write news), Kimberly has worked for both daily and weekly newspapers, covering multiple beats including education, health and crime, but she always dreamed of writing novels and someday saying goodbye to her nonfiction roots.
Born and raised in scenic Mariposa, California, Kimberly knows a thing or two about small towns—preferring the quiet, rural atmosphere to the hustle and bustle of a busy city any day—but she and her husband make their home in Oakdale, which represents a compromise between the two worlds. Kimberly and her husband, John, met and fell in love while filming a college production. He was the camera operator and she was the lead actress. Her husband often jokes that he fell in love with his wife through the lens of a camera. A year later they were married and have been together ever since.
In addition to writing, reading and drinking hot chocolate by the windowsill when it rains, Kimberly enjoys photography and is the resident photographer for every family event, including weddings and new babies. The photographs gracing the walls of their home are comprised almost entirely of shots Kimberly has captured, whether on the job or just playing around with the camera. The oldest of four siblings and the mother of three children, Kimberly divides her time between football games, swim meets and deadlines.
Log In to see more information about Kimberly Van Meter
Log in or register now!
Series
Perfect, Wyoming
Books:
Soldier Protector, May 2019
Military Precision Heroes #2
e-Book
Tempted, March 2017
Paperback
A Wrong Bed Christmas, November 2015
Paperback
The Hottest Ticket in Town, April 2015
Paperback
A Daughter's Perfect Secret, March 2012
Perfect, Wyoming #3
Paperback
Sworn to Protect, July 2011
Paperback
Cold Case Reunion, July 2011
Paperback
Secrets in a Small Town, May 2011
Paperback
A Chance in the Night, April 2011
Mama Jo's Boys
Paperback
The Past Between Us, March 2011
Paperback
To Catch a Killer, August 2010
Mass Market Paperback
Trusting The Bodyguard, April 2010
Home in Emmett's Mill
Mass Market Paperback
A Man Worth Loving, November 2009
Home in Emmett's Mill
Mass Market Paperback
Kids On The Doorstep, July 2009
Home in Emmett's Mill
Mass Market Paperback
An Imperfect Match, September 2008
You, Me & The Kids
Mass Market Paperback
A Kiss To Remember, April 2008
Emmett's Mills; #1485
Paperback
Return To Emmett's Mill, January 2008
Paperback
Father Material, July 2007
Mass Market Paperback
The Truth about Family, December 2006
Miniseries: Going Back
Paperback