Christine Merrill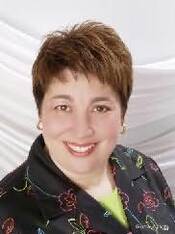 Photo Credit: Glamour Shots

Christine Merrill lives in rural Wisconsin about ten minutes outside of pizza delivery range with her high school sweetheart and two sons, a one hundred pound golden retriever, a pond full of goldfish and two cats with active social lives. She talks frequently about getting "just a few sheep or maybe a llama." Everyone breathes a sigh of relief when she stops.
Chris has wanted to be a writer for as long as she can remember, and during a stint as a stay-at-home-mom decided that it was time to "write that book." It would be a part-time job. She could set her own hours, and would never have to wear pantyhose to work.
How hard could it be?
Seasons changed, as did the century. Manuscripts piled up, along with rejections. But she slogged onward and seven years later, she got the thrill of seeing her first book hit the bookstores.
When not writing, Chris can be found at the movies, halfway back and towards the center, with a large buttered popcorn (but only if the film has a happy ending).
Series
Regency Silk & Scandal
Books:
The Truth About Lady Felkirk, October 2014
The Bellstons
Paperback
Lady Priscilla's Shameful Secret, April 2012
Mass Market Paperback
Dangerous Lord, Innocent Governess, July 2011
Mass Market Paperback
Taken By The Wicked Rake, January 2011
Silk & Scandal #8
e-Book
Taken by the Wicked Rake, January 2011
Silk and Scandal
Paperback
Paying The Virgin's Price, July 2010
Silk & Scandal #2
Mass Market Paperback
Taming Her Gypsy Lover, May 2010
e-Book
Pleasurably Undone!, April 2010
Mass Market Paperback
A Wicked Liaison, July 2009
Mass Market Paperback
The Mistletoe Wager, December 2008
Mass Market Paperback
Hallowe'en Husbands, October 2008
Paperback
An Unladylike Offer, August 2007
Mass Market Paperback
The Inconvenient Duchess, October 2006
Paperback