Ron Suskind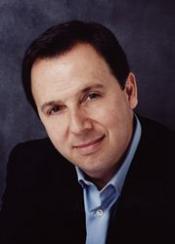 Ron Suskind is an author and journalist based in Washington, D.C.
His latest book, "The One Percent Doctrine," is a revealing journey deep inside America's battles with violent, unrelenting terrorists -- a game of kill-or-be-killed, from the Oval Office to the streets of Karachi.
His 2004 book, "The Price of Loyalty, George W. Bush, the White House and the Education of Paul O'Neill," is a sweeping tour of the inner working of the Bush Presidency, among the most secretive administrations in modern times. The book follows the two-year arc of Paul O'Neill, Bush's Treasury Secretary and a principal of the National Security Council, as he and other senior officials assess the conduct and character of this Presidency.
Mr. Suskind is also the author of "A Hope in the Unseen, An American Odyssey from the Inner City to the Ivy League," (Doubleday/Broadway, 1998), which follows the two year journey of a prickly, religious honor student as he escapes from a blighted, Washington, D.C. terrain to find a home at Brown University. The book, which was launched by a series in the Wall Street Journal that won him the 1995 Pulitzer Prize for Feature Writing, has been a favorite on U.S. campuses and in book clubs.
From 1993 to 2000, Mr. Suskind was the senior national affairs writer for the Wall Street Journal. He was a contributor to "Profiles in Courage for Our Times," (Hyperion, 2002), along with other prize-winning authors. He currently writes for various national magazines, including the New York Times Magazine and Esquire Magazine. Two articles that appeared in Esquire in 2002 delved into the workings of the Bush White House.
Mr. Suskind has appeared on various television news programs as a correspondent or essayist and is a distinguished visiting scholar at Dartmouth College. He is a graduate of the University of Virginia, Columbia University Graduate School of Journalism, and lives in Washington with his wife, Cornelia Kennedy Suskind, and their two sons.
Series
Books:
Life, Animated, April 2014
Hardcover
Confidence Men, September 2011
Hardcover
The Way of the World, August 2008
Hardcover
The One Percent Doctrine, May 2007
Paperback
The One Percent Doctrine, June 2006
Hardcover
A Hope in the Unseen, May 1999
Paperback