Christine Brennan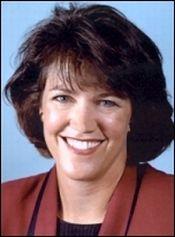 Journalist Christine Brennan - USA Today sports columnist, author of the best-selling figure skating books Inside Edge and Edge of Glory and television sports analyst - is a leading voice on the Olympics, international sports, women's sports and other sports issues. Brennan, a staff writer at The Washington Post from 1984-96, was an on-air commentator for ABC News and ESPN television during the 2002 Winter Olympics in Salt Lake City, breaking the news of the pairs figure skating scandal at the Games. She also worked for ABC News during the 1996 Summer Games in Atlanta, the 1998 Winter Games in Nagano and the 2000 Summer Olympics in Sydney.

Brennan has appeared on a variety of network and cable shows over the past decade, including ESPN's SportsCenter, Nightline, Good Morning America, World News Tonight and NBC's Today show. A commentator on National Public Radio's Morning Edition, Brennan appears regularly on ESPN Radio and WMAL Radio in Washington, D.C. Her sports commentaries appear on-line at usatoday.com.

Brennan, who joined USA Today as a columnist in 1997, became the first woman to cover the Washington Redskins in 1985 as a staff writer at The Washington Post. At the Post, she covered the Olympics and international sports, reporting from many nations, including Cuba and the former Soviet Union. Brennan has covered every Olympics since the 1984 Los Angeles Games.

Prior to joining the Post, Brennan was the first woman sports writer at The Miami Herald, where she worked from 1981-84. The author of four books, Brennan has won the Women's Sports Foundation's journalism award four times, and her work has been featured in various sports anthologies. Her 1998 book Edge of Glory won an Ohioana Library Association book award. In 1993, she was named the Capital Press Women's "Woman of Achievement." She recently was named one of the top 10 sports columnists in the category of the nation's largest newspapers by the Associated Press Sports Editors for 2001.

A native of Toledo, Ohio, Brennan was inducted into the Ohio Women's Hall of Fame in 1995. She graduated from Ottawa Hills High School in 1976. In 1988, Brennan was elected the first president of the Association for Women in Sports Media. As president of the nationwide organization, she initiated a scholarship-internship program for college-age women that now honors six students annually. Brennan received undergraduate and master's degrees in journalism from Northwestern University in 1980 and 1981, respectively. She lives in Washington, D.C.
Series
Books:
Best Seat in the House, May 2006
Hardcover