Gloria Loring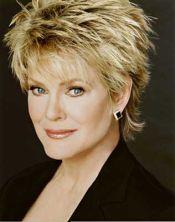 A consummate singer and entertainer, Gloria Loring is the recording artist of the #1 hit song Friends and Lovers, co-composer of television theme songs for Facts Of Life and Diff'rent Strokes, an audience favorite from daytime TV's Days Of Our Lives, spokesperson for the Juvenile Diabetes Research Foundation, author of four books, including her new release, Living With Type 2 Diabetes, inspirational speaker and one of the few artists to sing two nominated songs at the Academy Awards. Gloria Loring's energy, commitment and joy are absolutely contagious.
Gloria is currently on a press tour for her new book, which includes an appearance on The View where she spoke and sang about her commitment to raise awareness and help people with diabetes and other chronic diseases. She also just recorded a new version of Peggy Lee's classic "Fever" with saxophone phenomenon Jimmy Sommers, and hosted and sang on a Holiday PBS special live from the Dorothy Chandler Pavilion. Performing at Sheryl Lee Ralph's annual Divas Simply Singing, she stopped the show cold and was booked for next year before the curtain came down. In addition, she has recorded her first meditation CD, Body, Breath and Mind, launched a new production company, "Maybe It's Today," and is developing More Friends, More Lovers, a recording of duets and ballads in honor of the 20th Anniversary of Friends and Lovers.
With nine albums to her credit, Loring has performed in concert all over North America, Europe and Australia. Her performances prompt reviews from critics, such as the one written by Don Heckman of the Los Angeles Times, "She told stories with the panache of Lena Horne, sang torch songs like Judy Garland, and scatted with the rhythmic thrust of a young Ella Fitzgerald. She did all of this with one of the best vocal instruments in pop music since the salad days of Barbra Streisand." Gloria has shared the stage with George Carlin, Billy Crystal, Bill Cosby and Al Jarreau. She's starred in musicals, movies of the week and television specials, and has hosted television shows and live events.
Her two new musical shows draw from her own life, with themes that come from her heart and experience. One of her performance vehicles, Gloria Loring "Throws It Down," is inspired by the music of her family; a hybrid of the classic rock she grew up with, combined with the big band swing of her parents, mashed up with some sexy R&B inspired by her Grammy-nominated son, Robin Thicke.
With the same bravado that rap stars, dance contestants, and American Idols battle for musical supremacy, Gloria Loring's Stomping at the Savoy serves up the flavor and fervor of the most magical night in big band swing: the night that Benny Goodman's band first played Carnegie Hall, while in Harlem, Count Basie and Chick Webb squared off in the ultimate battle of the bands, fronted by vocal greats Ella Fitzgerald and Billie Holiday.
On the lecture circuit, Gloria Loring presents a unique musical-motivational seminar: Turn the Page. Combining biographical anecdotes and personal growth insight with her original music specifically written for the self-improvement genre, Gloria speaks from a diverse menu of topics and programs, ranging from health and business to entertainment and spirituality.
Gloria is known as a fierce advocate for those living with chronic illness. She is an certified yoga instructor and an articulate champion of bio-medical research. When her son was diagnosed with diabetes at age four, she created and self-published two volumes of the Days Of Our Lives cookbook. Those books, along with her recording A Shot in the Dark, raised more then one million dollars for diabetes research.
She followed that success with two commercially published books, Kids, Food and Diabetes and Parenting a Child with Diabetes.
Her newest book, Living with Type 2 Diabetes: Moving Past The Fear, written with Dr. Timothy Gray, will be released this summer. She was also just honored with the Founders Award from the National Disease Research Interchange for her lifetime work in Diabetes.
Honored with the Lifetime Commitment Award
from JDRF and the 1999 Woman of Achievement Award from the Miss America Organization, Loring is listed in the World Who's Who of Women and Who's Who in America.
In her community, Gloria devotes her time and experience as President of the Lake Arrowhead Foundation for the Creative and Performing Arts. She is married to Emmy Award-winning art director and production designer, René Lagler, and lives in Southern California.
Series
Books:
Living with Type 2 Diabetes, April 2006
Trade Size