Ala Bashir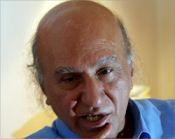 Ala Bashir is a prominent Iraqi painter, sculptor and internationally known plastic surgeon who once treated thousands of Iraqi soldiers for disabilities arising out of wounds sustained during the 1980-1988 war with Iran.
He was also a senior surgeon at Baghdad's Ibn Sina hospital where he provided medical services to Saddam Hussein and senior Iraqi cabinet members.
Dr Bashir left Iraq after US-led occupation forces reached Baghdad on 9 April and stayed in Qatar for a while before moving on to Norway.
Series
Books:
The Insider, August 2005
Trade Size