Diana Groe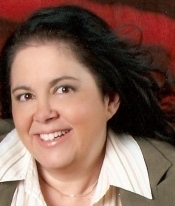 Pseudonym: Mia Marlowe.
Pseudonym: Lexi Eddings.

Diana Groe has a checkered past. She has been a wife, a home-schooling mom, a teacher, a director of music and children's ministries, a professional singer, a realtor, a banker and now Diana finally knows what she wants to be when she grows up--a writer.
Diana Groe is a summa cum laude graduate of the University of Northern Iowa with a degree in music. A classically trained soprano who made her debut with the Denver Symphony, Diana can now be found re-creating the splendidly barbaric world of the Vikings, the seedy and celebrated sides of the Georgian era, or playing with cowboys in the 19th century West.
More than any other genre, romance is character-driven fiction. Much of what Diana Groe knows about characterization, she learned as a professional opera singer. To prepare for a role, she dug deep into her character's psyche, inventing her own back stories and pivotal moments. Now she turns that energy toward creating heroes and heroines her readers will empathize with and love. Unlike operatic heroines, who usually die in a frigid Parisian garret just as the hero comes to his senses, Diana's literary heroine lives to keep the hero.
MAIDENSONG hit the shelves in May 2006. Layered with Norse legends and forbidden passion, the sizzle in this love story would melt a glacier. Set in the Scandinavian fjords and opulent 9th century Constantinople, the Chicago Tribune calls MAIDENSONG "refreshingly different" and "splendidly entertaining." CORA, a European publishing house, has acquired the foreign rights to MAIDENSONG, as well as Diana's second book, ERINSONG and plans to translate the stories for 2007 releases in German. ERINSONG, a November 2006 Leisure Book release, is a tale of Vikings in Ireland. Critics hail ERINSONG "a masterpiece" and "lushly romantic." Her third story SILK DREAMS will be available July 2007.
Diana's writing has garnered numerous awards--Outreach International's Award of Excellence, Music City Writer's Melody of Love, Inland Empire's Picture This!, and NEORWA's Romancing the Novel. Her work has been favorably compared by literary critics to the "great mistresses of the genre: Small, Henley and Mason." History and travel are two of Diana Groe's passions. She and her husband love to cruise and explore new places. After living in eight different states and four time zones, Diana now calls the Missouri Ozarks home. But she has no idea where or when she'll place her next story. She only knows it will be full of adventure and proof that love is the most dangerous journey of all.
But love is always worth the trip.
Series
Books:
Silk Dreams, July 2007
Mass Market Paperback
Erinsong, October 2006
Paperback
Maidensong, May 2006
Paperback