Rocco DiSpirito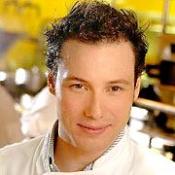 Rocco DiSpirito was born and raised in Jamaica, Queens. His culinary experience began at age eleven in his mother Nicolina's kitchen. By the age of 16, DiSpirito entered the Culinary Institute of America. He graduated in 1986 and studied abroad at Jardin de Cygne in France with Dominique Cecillon and Gray Kunz. In 1990, DiSpirito earned a B.S. in Business from Boston University.
He worked at Adrienne in New York and as Chef de Partie at Aujourd'hui in Boston. DiSpirito then joined Lespinasse's opening team. In 1997, DiSpirito opened Union Pacific in New York City's Gramercy Park as Chef and Owner. In 1999, DiSpirito was named Food & Wine's Best New Chef, and in 2000, Gourmet magazine called him "America's Most Exciting Young Chef."
DiSpirito opened Rocco's 22nd Street in the summer of 2003 while cameras for NBC's The Restaurant watched and took notes. Later that summer, more than nine million viewers a week tuned in to see the ups and downs of DiSpirito's family-inspired eatery. The second series aired in the spring of 2004.
DiSpirito is the author of Flavor (Hyperion, October 2003), a unique cook book that breaks down his concept of building dishes on the four basic flavors, making his unique approach to food accessible to the home cook. He launched Rocco Cookware and Rocco Family Food in March of 2004. DiSpirito's second book, Rocco's Italian- American was released in November of 2004 (also by Hyperion).
Series
Books:
The Negative Calorie Diet, January 2016
Hardcover
The Pound A Day Diet, January 2014
Hardcover
Now Eat This! Italian, April 2012
Hardcover
Now Eat This! 100 Quick Calorie Cuts At Home / On-The-Go, October 2011
Paperback
The Now Eat This! Diet, April 2011
Paperback
Now Eat This!, March 2010
Paperback
Rocco Gets Real, November 2008
Paperback
Rocco's Real-Life Recipes, November 2007
Paperback
Rocco's Five Minute Flavor, December 2005
Hardcover