Georgia Durante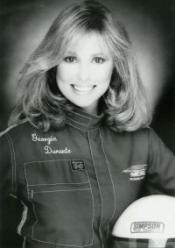 Georgia Durante has packed a lifetime of lessons into forty- eight years. Those who have known her for the past eighteen years as one of Hollywood's most successful female commercial stunt drivers have been shocked by the truth of her past.
Hollywood producers have known two Georgia Durante's: the steely-nerved stuntwoman with the skill to handle a three- ton high-performance vehicle in high-speed precision maneuvers; and the beautiful model and actress who, at seventeen, was considered the most photographed girl in the country.
They knew only those sides of her because that was all she chose to reveal. Only now does she share the full story of her life, in The Company She Keeps. Compelling and terrifying, The Company She Keeps tells the true story of Georgia Durante's storybook beginnings in Rochester, New York when at the tender age of twelve, the radiant little girl began her national modeling career. At seventeen, she became the "Kodak Girl" immortalized with her life-size image displayed in more than 80,000 retail stores across the country.
Soon the magnetic smile that propelled Georgia's modeling career served only to mask the pain she endured from a brutal rape at the hands of her brother-in-law, her first brushes with mob violence, the birth of her daughter, and a failed marriage, all before she turned twenty. The underworld is where Georgia sought comfort and eventually became a wheelwoman for the mob, giving birth to the career that she eventually pursues.
The Company She Keeps is powerful and raw; a deeply personal account of one woman's life. Model, Mafia wife, victim and victor, Georgia Durante saw the worst that life had to offer and escaped it. She embraced the positive, but kept the negatives so as never to forget.
Georgia's current book has touched thousands of women who's own lives experience have been different, but in many ways, the same. They have reached out to her for comfort and advise. Her book took her down roads she never expected to take. She now travels around the country speaking to abused women, kids on drugs, and inspires them to look at their lives and make the needed changes. She has saved one woman from being murdered and another from committing suicide. Those are the two she knows about. She has lived many lives in one and can speak on several topics on many levels. She has become a favorite guest for TV talk shows and radio shows.
With her company, Performance Two, Georgia Durante has performed in hundreds of national and international television commercial campaigns. Her clients include all of the major automobile manufacturers as well as many of the most recognized brands and products in the world. Additionally she has appeared in numerous feature films and network television shows. She is currently seeing game show host, "Chuck Woolery" and continues to make her home in Southern California.
Series
Books:
The Company She Keeps, October 2008
Mass Market Paperback
The Company She Keeps, March 2004
Trade Size