Marlo Thomas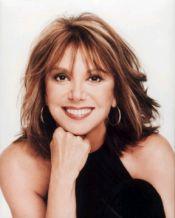 Actress, producer and social activist, Marlo Thomas has for three decades been a role model for women and children. Marlo blazed the trail as television's first single woman living alone in the hit series "That Girl" and has since produced numerous inspiring projects such as the best- selling television special, book and record "Free to Be…You and Me" and the New York Times best seller "The Right Words at the Right Time," all royalties from which were donated to St. Jude.
Marlo began her career performing in regional theaters around the country, when Mike Nichols cast her as the lead in the London production of Neil Simon's "Barefoot in the Park." She then went on to star in and produce the long- running hit television series "That Girl." Marlo has appeared in several Broadway productions, television films and feature films. She has made guest appearances on the hit television shows "Friends" and "Ally McBeal."
Over the course of her ground-breaking career, Marlo has received four Emmys, nine Emmy nominations, a Golden Globe, the George Foster Peabody Award for Television Excellence, the American Women in Radio and Television Satellite Award and the Ellis Island Medal of Honor for exceptional humanitarian efforts and outstanding contributions to our country.
Series
Books:
It Ain't Over . . . Till It's Over, April 2014
Hardcover
Growing Up Laughing, October 2010
Hardcover
Free to Be...You and Me, October 2008
Hardcover
The Right Words at the Right Time Volume 2: Your Turn, April 2006
Hardcover
Thanks & Giving: All Year Long, November 2004
Hardcover