Jennifer Miller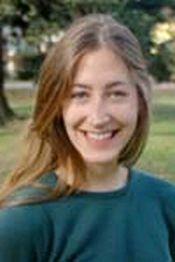 Miller grew up in a suburb of Washington, D.C., surrounded by the chaotic politics of the Middle East. Her father was a U.S. State Department negotiator at the Oslo and Camp David peace summits, and dinnertime conversation in the Miller househould often included discussions of the Middle Eastern conflict. But it was when Miller joined Seeds of Peace, a youth program that brings Middle Eastern kids to Maine for intensive sessions of conflict resolution that her real experience with the Middle East began. As she befriended young Palestinians, Israelis, Egyptians, and Jordanians, Miller came to realize that their views were missing from the numerous debates over the Holy Land. By letting these young voices be heard, she knew she could reveal something vitally new and deeply challenging about the future of this torn region.
Miller learned fast that it was one thing to hang out at an idyllic camp in Maine and quite another to confront young people on their own turf--in the alleys of East Jerusalem, behind the armed gates of West Bank settlements, in the teeming refugee camps of Gaza. Friendships that had blossomed back in the U.S. withered in the aftermath of yet another suicide bombing. Big-hearted teens on both sides of the conflict shocked Miller with the ferocity of their illusions and the twisted logic of their misconceptions. But she also found rays of hope in places where others had reported only despair--surprising open-mindedness among the ultra-religious, common ground shared by those who had lost loved ones to the violence, a yearning for peace amid the rubble of refugee camps and the shards of bombed cities.
A deft writer, she interweaves startlingly candid interviews with the vibrant realities of life in the streets. Just as Miller was forced to confront her biases as an American, a Jew, a woman, and a journalist, so she challenges readers to reexamine their own cherished prejudices and assumptions.
Jennifer Miller graduated from Brown University with a degree in English Literature and creative writing. She lives in Providence, Rhode Island, where she works as a freelance writer.
Log In to see more information about Jennifer Miller
Log in or register now!
Series
Books:
Mr. Nice Guy, October 2018
Trade Size
Inheriting the Holy Land, September 2005
An American's Search for Hope in the Middle East
Hardcover